Stara Rzeznia in a new version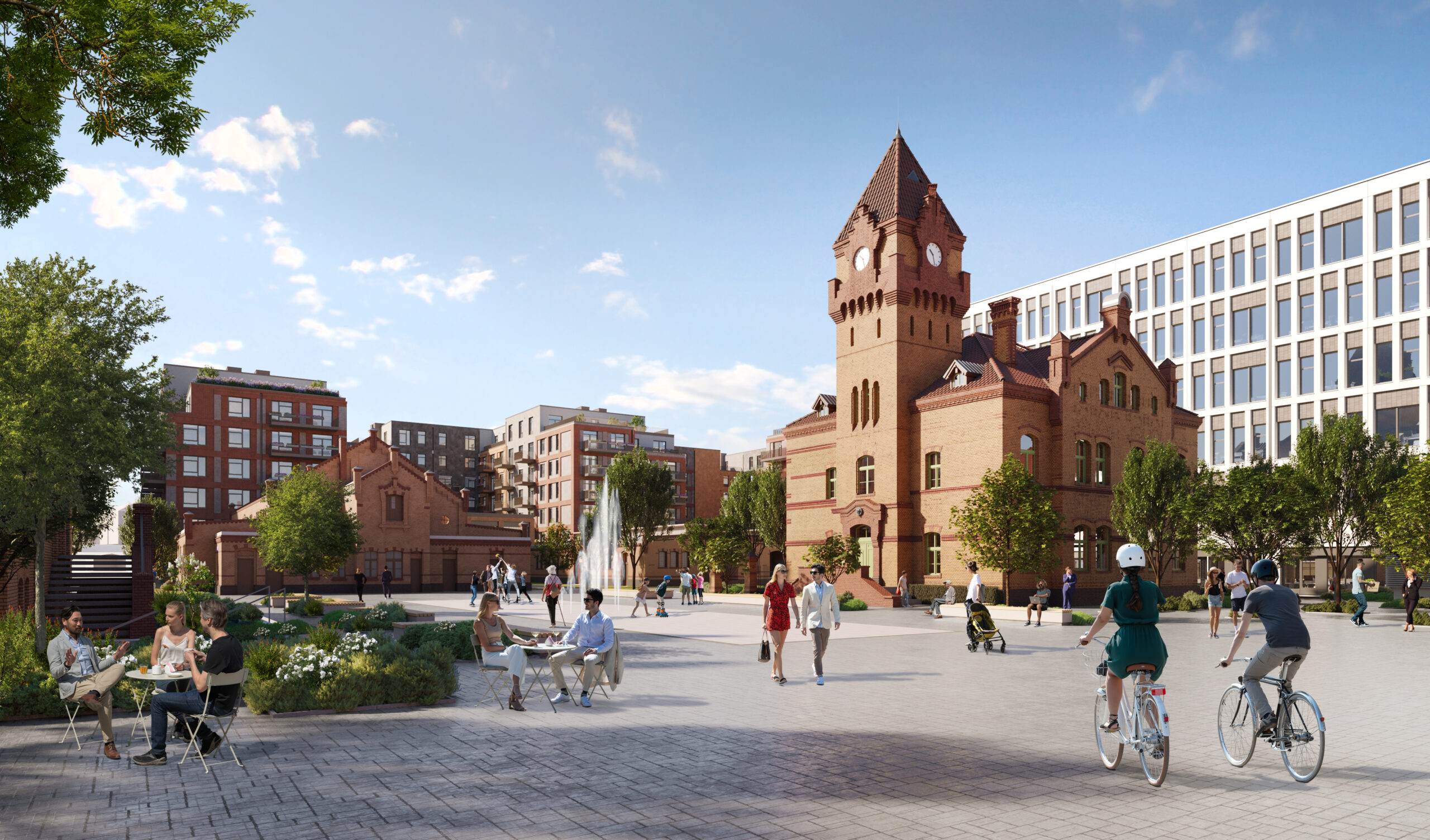 Over a hundred years old, this somewhat forgotten part of the city will take on a new character. The carefully restored industrial buildings will contrast with the modern architecture. Employment opportunities, flats, cultural facilities, retail, service, and food outlets will be developed on the site. Thanks to the range of functions and the investment's scale and location, a vibrant space will be created, very much conducive to social integration, a place you would like to be — from morning coffee to dinner with friends or a theatrical performance in the evening.
"We are aware that this neighbourhood is of great importance for Poznań. We very much wanted to showcase valuable industrial architecture and build a harmonious neighbourhood with its historic surroundings: the Old Town, St. Wojciech's Hill (Wzgórze Św. Wojciecha) and the Cemetery of Meritorious Inhabitants of Greater Poland (Cmentarz Zasłużonych Wielkopolan), as well as the planned Museum of the Greater Poland Uprising (Muzeum Powstania Wielkopolskiego), and the recreational areas of the Citadel (Cytadela)," said Roger Andersson, Managing Director of Vastint Poland.
The heart of the complex will be the central square surrounded by the original historic buildings, designed by Feliks Moritz. Buildings from the turn of the 19th and 20th centuries will be fully preserved and their components carefully restored including the main hall, the boiler room, the engine room, and the water tower. Brick facades will regain their former glory and original appearance. The interiors will be appropriately adapted to their new functions, also in terms of design. The square in front of the main entrance on Garbary Street will become a public space.
Despite the new buildings on the fringes of the quarter, the historic buildings will still be visible from the outside. The design also ensures that St. Wojciech's Hill (Wzgórze Św. Wojciecha) can be seen from the heart of the complex and the Old Town.
"Although fragments of the historic wall will be preserved, we want the Stara Rzeznia to be an open and friendly place for everyone. Meeting points and cultural and artistic events will attract passers-by and regulars, friends and entire families," said Roger Andersson. "This will be an important novelty, because from 1900 until the end of its industrial activity, this area was inaccessible to the inhabitants of Poznań, and during subsequent decades it was only occasionally made available for cultural and artistic events and an antiques fair. This development is an opportunity to activate the area and elevate its stature."